moet.com, Moët Explorer and clic d'or
After the success of l'Esprit du Siècle, Moët & Chandon entrusted us with the creation of its corporate website, which was then managed by Moët's American subsidiary and the Bates agency. The brand wanted to take back control of its communication with a French agency and Ici la Lune was chosen.
The site was created in Shockwave, as were all our projects at the time, and we were able to find an original and interactive layout far from the usual static versions.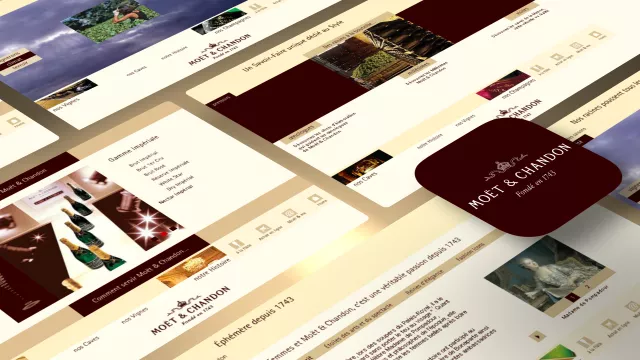 The corporate website moet.com
A new challenge
Creative freedom and technological challenge have never been so present in a project.
In retrospect, one can see the risk-taking and the level of confidence Moët & Chandon had in such an ambitious project from such a young agency.
L'expérience Moët Explorer
To summarize Moët Explorer, it is a journey through which we propose to each Internet user to become a champagne cork.
The objective is to propose a journey on a giant map, discovering geolocalized contents of the brand, chatting with other corks in a real time environment (night / day). The sublime music that invites to travel was of course composed by Musa Machina.
This project received the Clic d'or 2001 award in the Best Design category and was a defining web app for the agency.