New motion design activity with Renault
Since our beginnings in digital design, imagining and realizing interactive experiences has always been our goal.
However, motion design has been one of the components, especially in the Cosmix project and for the first time, a client asked us to imagine and realize videos broadcasted on all its shows.
This client was none other than the car manufacturer Renault !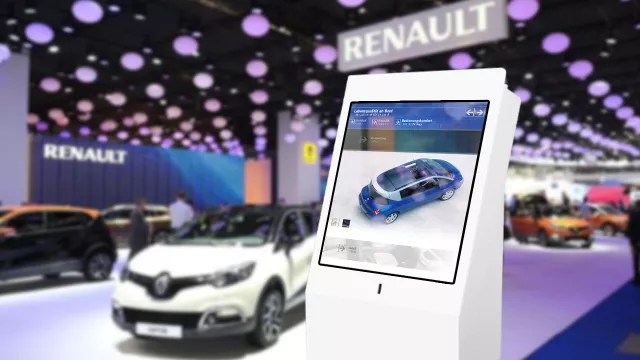 Renault at the Motor Show
In 2001, we started a collaboration with the brand that lasted 15 years, for the 'Salons' department, but also for the 'Square com' near the headquarters in Boulogne Billancourt and the 'Atelier Renault' on the Champs-Élysées.
The videos produced showcased the advantages of Renault and Dacia vehicles and were broadcast on all types of screens, from the interactive kiosk to the giant screen of about ten meters.
In parallel to the motion design, several interactive kiosk projects were created, conceived as products.
Indeed, the contents diffused via these terminals were based on a system of multilingual presentation of vehicles which had to be deployed via cd-rom (no network on the shows). This was the challenge of the Renault interactive kiosks that were present on all the brand's stands for 8 years.
The CMS Made in Lune was used to organize and structure the contents of all the shows, vehicles, models, engines, options with their texts and media (photos, videos). Deployed on cd-rom and installed in each interactive kiosk, the application allowed visitors to discover all the characteristics of the models exhibited with an intuitive and robust interface, to run intensively during the whole show period without encountering any problems.
Used on all the world's automobile shows between 2005 and 2011, the applications installed on Renault's interactive kiosks have enabled the company to cover around 100 shows.